Looking down the Tiber towards Tiber Island

Piazza Pasquino, looking towards the Pasquino statue. Piazza Navona is 40 metres up the alley on the left

From the same spot, looking the other way, that way to school (3 mins)

Piazza San Pietro in the early morning (7.30am) sunshine

At 7.45 there aren't many tourists yet inside. Yay.

A private audience with the Pietà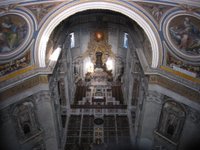 Just that part of San Pietro's is bigger than almost all churches in .is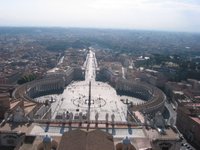 A view from the top


A somewhat skewed panorama, Gianicolo hill on the left, and I lived between that and the Tiber

On top.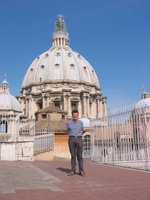 Sunshine on the roof of San Pietro, decently dressed.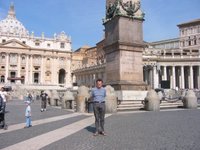 Taken from the Ponte Mazzini bridge towards home. The Via della Lungara is below

Home was the corner ground floor of the yellow building. Tiber and the Lungotevere is behind up a steep road.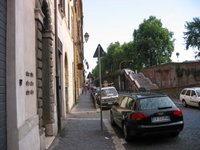 Looking down the Via della Lungara towards the Vatican. The Tiber is to the right, the other side of the embankment. Home was 100 m in the other direction, but the brown-yellow building on the left is the famous Regina Coeli jail.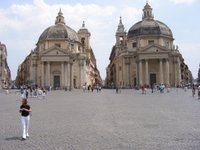 Piazza del Popolo and the twin churches. On the left is Via del Babuino towards Piazza di Spagna, middle is Via del Corso.

looking down over the Scalinate di Spagna onto Piazza di Spagna

At the Trevi.

The Olympic Stadium

This one goes into the soon-to-arrive Olympic Stadium gallery collection.

Most countries tend to tear down anything honouring deposed dictators, don't they?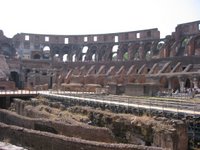 The Colosseum, as are then next few...

One of the nice things about not going alone sightseeing is to have someone to take the pictures.

Possibly the most fake looking photo I've taken. Emily at the Colosseum, Arco di Constantino and the Palatino behind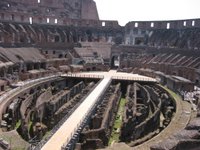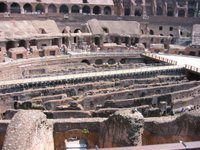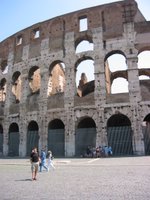 A pretty fountain on the Palatino.

The Domus Augustana on the Palatino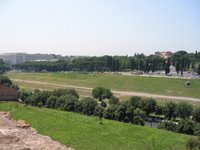 Looking at the Circus Maximus from the Palatino. They'd started erecting the Live 8 stage off-camera to the right

View from the Palatino towards the Gianicolo, Vatican on the right

At the Forum.

The Piazza Augusto Imperatore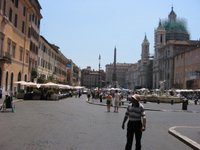 Piazza Navona, looking south

I did a great doubletake the first time i saw that. Common in Rome.

The Fontana dei Quattro Fiumi

A great view in the narrow streets of the Centro Storico, Piazza dell'Orologio is down to the left. Pity about the lens skewing things.

A view of the school building from across Piazza dell'Orologio.

The Orologio tower in the Piazza dell'Orologio, Borromini at work. School is to the right of the photo.

The school was in a 17th century building.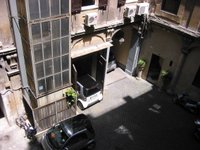 Three Smarts in the courtyard of school