Gods bestride the turf of Old Trafford
At around the same time that I chose VÝkingur as my team in Iceland, Manchester United was my choice in England. Although I can't remember, it probably was Tommy Doc's wonders that captivated me. the first I remember supporting United was being unconsolable after the 1976 FA Cup Final. Little did I expect the disappointments to come, but the glorious 90's have more than made up for it.
Barcelona
I got to spend an unforgettable day and night in Barcelona on May 26th, 1999. The photos are here
Old Trafford 1997
Some photos of my trip to Old Trafford on the final day of the season 1996-97: First off: Me and Paddy Crerand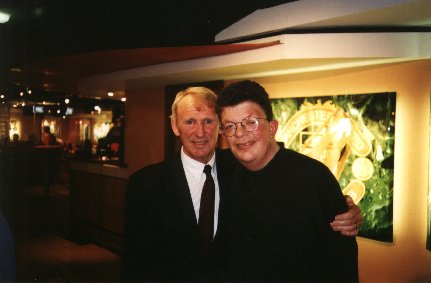 Meeting all the people at the Nest was great!





And here are some from OT and the Cliff:



And here I am in the Throstles' Nest, as photographed by Pete Hargreaves