Flew to Copenhagen in the morning, landing at 11.40 local time, and thanks to only having a carry-on bag, was at the Hovedbanegňrd (train station) in the city centre at 12. My very good friend and host, ١rmundur met me at the railway station a little later
and we took off into the city.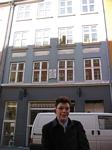 We had booked 'frokost', a Danish lunch at Huusmanns Vinstue at 1.30 and used the time until then to walk around and see some houses important to Icelandic history, the house (photo left) where Jˇnas HallgrÝmsson lived for the last year of his life,breaking his leg coming home from the pub one night and dying 4 days later. Also the house where Baldvin Einarsson, a caller for independence in the 1820s died in '32 after a candle set fire to his bed. The latter was in the same street as Husmanns, so it was a short way to some very nice herring, oxmeat and beer.
After lunch we continued along Icelanders' footsteps, seeing the university and university campus, the Rundetňrn and ending out on Kongens Nytorv plaza. From then it was time to take the train out to the suburbs and relax a bit before a late dinner and some quality catching up with my friends. Friday was a bit chilly, but Saturday was downright freezing. We made our way into the city centre early, this time it was time to walk the main shopping street, Stroeget.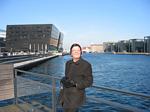 We had vague plans to watch the United-Fulham match if we found a pub showing it. After a couple of failed attempts we found one and welcomed the diversion from the cold.
United winning 3-0 didn't hurt either. We walked around a bit more, including seeing the very fance new library, aka The Black Diamond (photo on the right)Then it was off home to get ready for going out to dinner at the Restaurant Grňbr°dretorv 21. Fantastic food in a traditional Danish way. Another late night at home talking.
We left our travelling hero late on a Saturday evening. The Sunday started early since ١rmundur had to get back home at 2pm when his wife was playing (handball). We got downtown in much warmer weather and decided some more nationalist fervour was in order so we went direct out to ěsterport, and walking past old soldier houses from the 17th century (very few original tho) and to ěster Voldgade 12, or Jˇnsh˙s, Iceland's Culture House, where Jˇn Sigur­sson lived the last 27 years of his life. Again we pondered the Independence Fight of the 19th century.
From there it was natural to head back to town through the very pretty park. We went down to Str°get again and out to Nyhavn again which understandably much more crowded than on the Saturday. From there we went back street ways a bit, and amused ourselves watching the traffic jam resulting from a few police cars parked on the Nyhavn bridge. Again we got out on Kongens Nytorv and this time we headed towards the Royal Palace, Amalienborg. Walking along Bredgade, Broad Street, going there I was reminded that this was where the childrens' author Nonni lived for a year back in 1870 which he later wrote about. I devoured his books as a kid, and used them as guide books when I was in Copenhagen in 1980.
At Amalienborg ١rmundur left for home, but I continued eastwards to Langelinje and Den Lille Havfrue, The Little Mermaid. It's not "little", it's Huge. More than lifesize. Fooled by preconceptions, not for the first time. The very old and by all acounts pretty soldier camp there was closed to tourists due to the war, so I walked around the encircling moat, and ende up again near ěsterport, but this time I went straight down to Bredgade again so I could walk the stretch back to Amalienborg and cover the whole street. From Amalienborg I went down to the harbour and thence back up to, surprise, surprise, Kongens Nytorv. The afternoon was spent wandering the side streets of the centre, until at 5pm when i was exactly tired enough for the idea of sitting in a pub watching Everton-Arsenal to appeal a lot. This was very nice, apart from the result. A funny thing, in the second half the guy who'd been sitting in front of me turned around and asked something I didn't hear, He then asked in English "Are you Danish" I said "No, Icelandic" and he goes "╔g hÚlt ■a­" (I thought so). You can never get away from Icelanders *g* Then I went off to the airport to dine with ١rmundur and his wife and ١rmundur's parents who were stopping by in the airport Hilton on their way to Italy.
On Monday I packed my small overnight bag and said goodbye to Voldumvej earlyish and went downtown with ١rmundur, he went to meet his parents, but I took on the task of finding the few side streets of the small city centre that I hadn't already walked, and I'm not sure I didn't actually manage that. I went to lunch in a small but very nice restaurant in Christianshavn, another Danish frokost, but didn't go over to nearby Christiania. Christianshavn was very pretty in the spring sunshine, as the day was nice and warm.I'd thought about going to some museums, but in the end I didn't go to any. By the time on Sunday I fancied looking in on Ny Carlsberg Glyptotek it was almost four o'clock, closing time, and on Monday I was just very happy wandering around the shops. I bought a couple of Kim Larsen CDs, very nice, but didn't find a good CD shop until I went to Magasin late in the afternoon, about ten minutes before I was supposed to meet ١rmundur in the Rňdhuspladset square. I met up with my kind host at 5pm and we spent a pleasant hour talking and going to Politiken's bookshop which looking back I should've visited earlier. But all good things must come to an end and shortly after six we said our goodbyes in the train station. I went off to Kastrup Airport, met my cousin's husband ┴rni there and spent the waiting time in good company. And finally my plane took my home in about three hours.
It's certainly one of the best holidays I've taken, the mixture of friends, relaxation and history in a very nice city providing an overall sense of contentment. It was maybe slightly too cold the first two days, and Tivoli wasn't open but this is in fact a good thing since it provides a cast iron excuse for visiting again either this summer or the next. Thank you so much, ١rmundur, Sˇley and Sigurveig for a wonderful time.